A talent acquisition specialist works closely with the hiring managers and uses evaluation methods, human resources knowledge, and appropriate hiring strategies to find the ideal candidate who fits well with the company's culture.
Since it is a crucial position for the human resources department and involves many responsibilities, you should read more about the talent acquisition specialist role to understand it better.
This article will detail what the talent acquisition specialist job entails, their primary duties, and how they attract the best talent to an organization. If you want to learn about the role via video, then watch below. Otherwise, skip ahead.
The Talent Acquisition Specialist Role
The focus of a talent acquisition specialist is to find great candidates for a specific role. However, they also have the responsibility of helping hiring managers with their selection and ensuring that the right person gets hired for the job. Therefore, a talent acquisition specialist will be involved in every step, from initial contact to hiring the best applicant and onboarding this new hire.
The talent acquisition specialist works closely with the main stakeholders to understand their needs, fine-tune the job description for the role, and help them identify the best candidate. They also attend job fairs and perform on-site candidate evaluations for a quicker hiring process.
A talent acquisition specialist may even write the job description from scratch and help formulate practical interview questions. Therefore, they must acquire human resources management skills and learn how to compose top-quality job descriptions.
Once the hiring managers have found the perfect candidate, they will further collaborate with the talent acquisition specialists to ensure that the new hire receives a successful orientation. In some cases, the talent acquisition specialist may even coach the new employee during his first few weeks at the company.
The following image shows you the main steps in the talent acquisition process that a specialist has to be proficient in.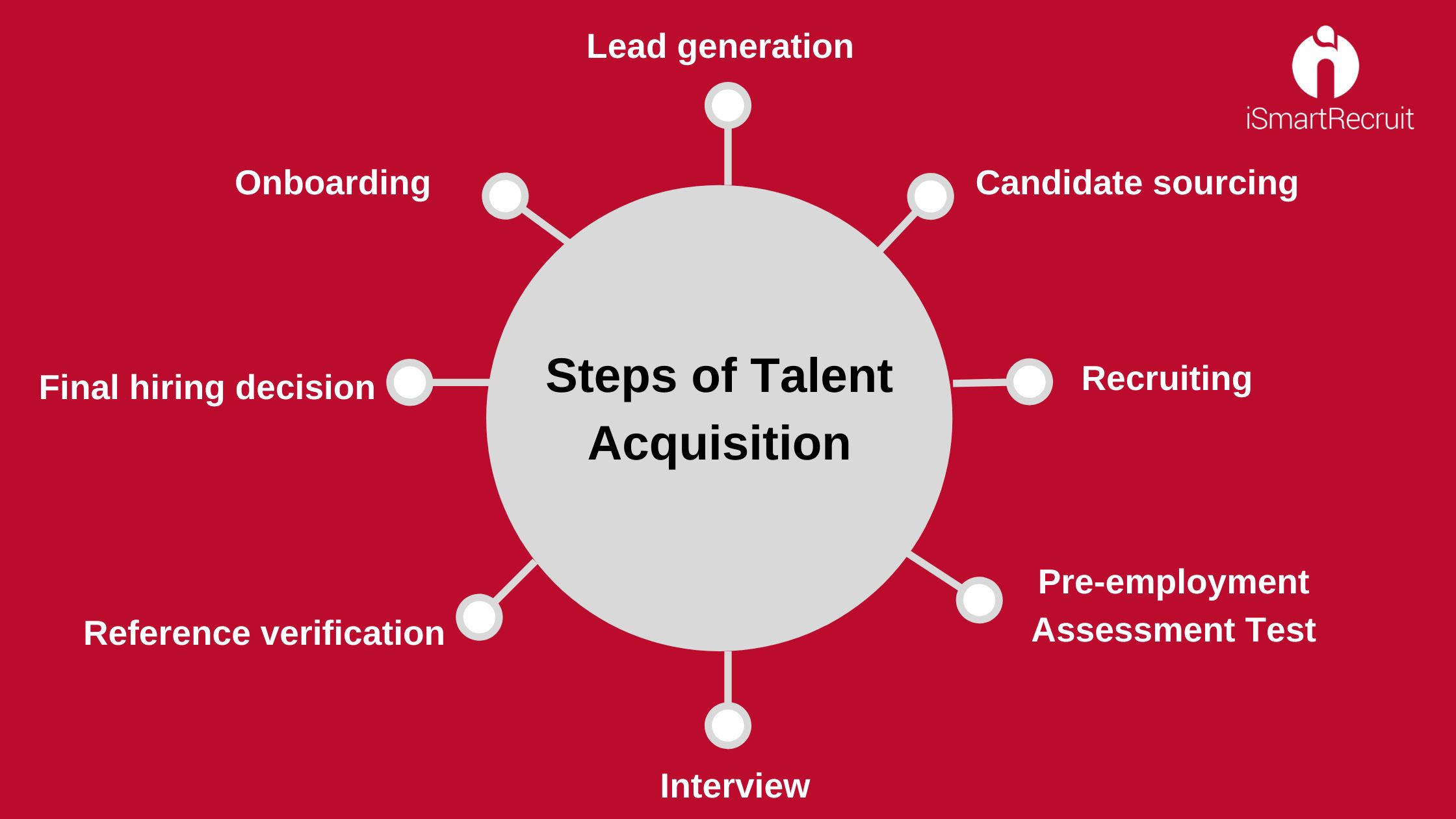 The talent acquisition specialist job involves managing different stages of the hiring process. It also involves understanding the details of full cycle recruiting, using applicant tracking systems for improved productivity, forming an effective hiring strategy, and providing feedback on performance reviews to ensure that the new hire understands its policies and procedures.
Apart from being excellent at job descriptions, you also need to have significant knowledge about HR to succeed at the talent acquisition specialist job. You should go check out our top-quality certifications at HR University to get the education you need to become a talented HR professional.

Talent Acquisition Specialist Responsibilities
Since the talent acquisition specialist job is specialized, their duties and responsibilities are significantly straightforward. They have to monitor and handle all the talent acquisition matters within an organization. Additionally, a successful talent acquisition specialist needs to bring in the best talent and ensure that they join the organization once they are hired.
Some of the main duties of a talent acquisition specialist are explained below.
Attract Talent Through Different Mediums
A talent acquisition specialist must ensure that the job role gets maximum visibility across all different hiring platforms. It is in their best interest to have as many applicants as possible since it will help diversify the pool. Additionally, it also increases of finding and selecting talented individuals.
Therefore, the talent acquisition specialist must post the job description and role across all major mediums. Their options include job fairs, electronic job boards, and other recruitment events. They also have to monitor their job listings constantly and follow up on candidates through their communication skills.
Create an Effective Hiring Strategy
Many organizations struggle with their hiring strategy and suffer by hiring ill-suited candidates. A talent acquisition specialist ensures that their strategy is optimized and covers all the details needed to select the best talent. In addition, since they are an essential part of the human resources management team, their opinion plays a more significant role in planning the final hiring approach.
Iterate and Construct Efficient Long Term Recruiting Strategies
As an organization grows, its priorities change, and its hiring strategies must adapt accordingly. However, many organizations plan and create long-term approaches that help set future hiring standards. A talent acquisition specialist helps create such a strategy by researching the organization's nature and culture. They use their insights into creating a strong candidate pipeline that helps create better job descriptions and selection procedures.
Practice Compelling Interview Techniques
The interview process is an integral part of the hiring journey and is the first communication event between the talent acquisition specialist and the talent. It is an opportunity to test the candidate's skillset and technical abilities, and the talent acquisition specialist has to plan it out smartly.
Talent acquisition specialists must be proficient in best interview practices to understand the candidate and decide if they can go further in the full cycle recruiting journey. Additionally, they have to ask the right questions to see if the applicant will be a good culture fit for the organization.
Review Resumes and Create Selection Procedures
Much of the hiring process involves determining potential candidates and screening out other applicants based on their resumes. Therefore, the talent acquisition specialist must have a solid understanding of resume writing and whether a particular applicant will fit the job description or not. While it involves significant experience in the human resources field, it is a fairly technical skill as well.
Conclusion
A good talent acquisition specialist understands the job duties of the position they are hiring for and they work closely with the hiring manager to select the best available candidates. It requires a keen understanding of selection procedures and comprehending job descriptions. Talent acquisition specialists are the HR professionals that the organization depends on for building a talented workforce.
The talent acquisition specialist job requires you to have excellent communication skills. It also involves closely collaborating with the other HR professionals in the human resources team to ensure your workflow's best human resources practices. Being a talent acquisition specialist means being thorough in approaching potential hires and ensuring they understand the job requirements.
Frequently Asked Questions
Here are some of the most common questions about the talent acquisition specialist role:
How Are Talent Acquisition Specialists Different From Hiring Managers?
A talent acquisition specialist is primarily responsible for finding and bringing the top talent that suits a particular job description. First, they post specific job opportunities on different portals and then forward applicants to the next stage. This stage involves the hiring manager, who has to assess the technical knowledge and skill of the applicants and select the best candidates.
While talent acquisition specialists focus on locating talent and coordinating their hiring process, hiring managers have to create appropriate selection criteria and assessments for candidates.
Do All Talent Acquisition Specialists Use Applicant Tracking Systems?
Applicant tracking systems are powerful tools that make the recruitment and hiring process much easier. Such tools are especially helpful when screening hundreds of applicants, and you have to follow through with each one's applications.
Talent acquisition specialists at large organizations rely on applicant tracking systems for a smooth recruitment journey. These tools are becoming increasingly common throughout the human resources landscape and will soon become the norm at all levels.
---
If you are new to Human Resources and are looking to break into a Talent Acquisition Specialist role, we recommend taking our HR Certification Courses, where you will learn how to build your skillset in human resources, build your human resources network, craft a great HR resume, and create a successful job search strategy.