The VP of HR leads the HR department by establishing all policies and SOPs related to hiring, firing, and supporting resources within an organization. In addition, the VP of HR is the senior-most stakeholder within the department when it comes to aspects including, but not limited to, benefits, salary packages, compensation plans, employee relations, and resource management.
The human resources department is the backbone of every enterprise. It has to locate, assess, and select the right employees for the vacancies. These employees are integral to a healthy and prosperous workforce for any corporation. An effective human resources department also provides long-term solutions to issues that arise in a workplace environment so everyone can be as happy and productive as possible.
Therefore, the HR department needs an effective leader who guides it towards success and establishes efficient workflows. The VP of HR ensures that their department is a solid support system. Additionally, they must assert that the company always remembers that HR matters just as much (if not more) than anything else when running a profitable business.
Simply put, a VP of HR will be the liaison between management and employees that helps create a healthy work environment while maintaining profitability for the company. Since it is the most elevated HR role within an organization, its description encompasses many responsibilities and complexities. You should know about such details to plan better, achieve goals and become a talented VP of HR yourself.
This article will explain the expectations from a senior role like the VP of HR, how they drive organizational effectiveness, and their importance for the company's success with its resources.
To learn more via video, watch below or skip ahead to continue reading.
The VP of HR Role
The VP of Human Resources plays a vital role within companies. Their job description can provide the first look into what it would be like to work at their company. Since it involves many duties, you need to refer to a clearly-defined job description of the major initiatives involved within the VP of HR role for better understanding.
You can understand the role of the VP of HR within the human resources hierarchy through the image below. As you can see, the VP directly oversees HR managers and supervises important decisions about talent acquisition and talent management within the organization.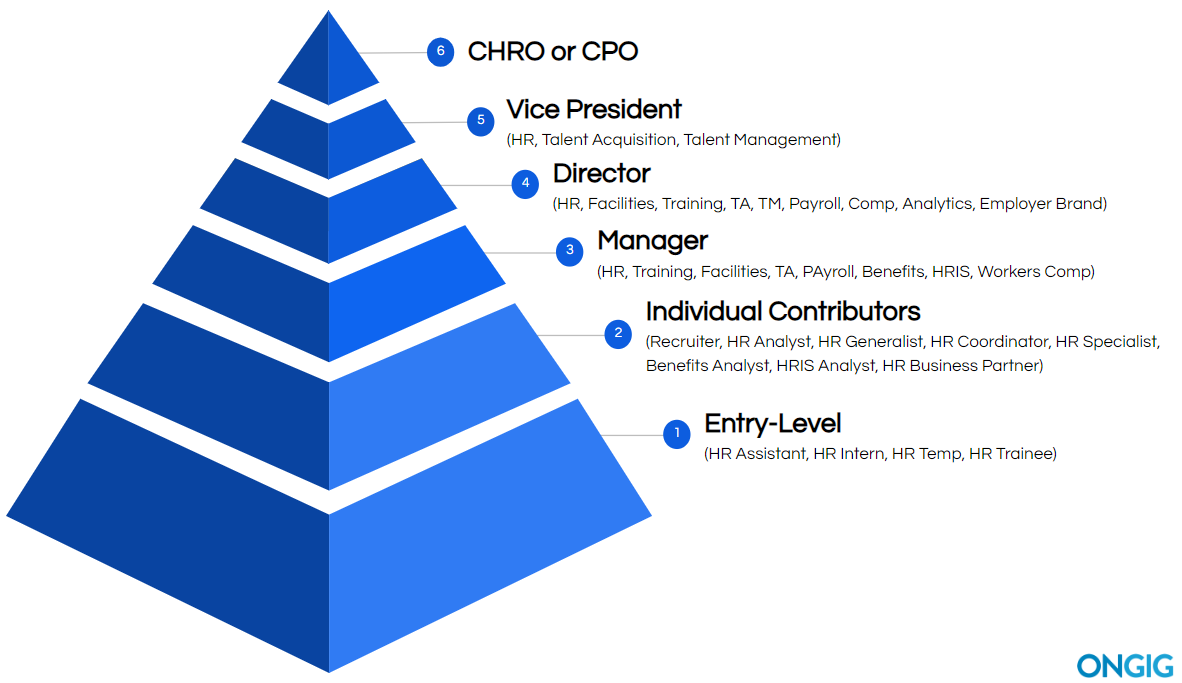 Some essential points expected from the vice president position for the HR department are explained in the job description below:
Effective Talent Management: A VP of HR's primary responsibility is to recruit, develop and retain talent. They ensure that new hires are a good fit for the organization in terms of skillset, personality traits, and work ethic. Simultaneously, they encourage existing employees to stay with the company by implementing intelligent policies regarding benefits, packages, and perks.
Implement Team-Building Strategies: The VP of HR has to implement plans for building morale among staff members, such as providing recognition opportunities or team-building activities. The ultimate goal is to create an environment where both current and future employees are happy. As a result, they will perform well without worrying about any outside factors that make them feel unproductive.
Play A Senior Role Within Organization: The VP of HR has to indulge in strategic planning that focuses on equal employment opportunity, legal regulations, and diversity measures.
The above vice president job description makes it easier for you to decide what qualities you need to become a vice president of the entire HR department. If you are interested in taking top-quality HR certification courses, you should check out our offerings at HR University.

Responsibilities and Duties
HR functions as a significant division for all kinds of organizations. Therefore, it is hardly surprising that the head of the department oversees the most crucial HR tasks. The VP of HR directly supervises human resource managers and ensures all workings and policies are relevant to the organization's needs and goals.
The primary responsibilities that make up a vital role like the VP of HR are explained below.
Hire Resources
The human resource department has to interview potential candidates for open positions and screen them based on qualifications and experience requirements. Before that happens, they have to prepare a list of qualified and appropriate applicants for an open position.
The VP of HR leads the way by creating a detailed description of what they are looking for in a suitable candidate. After all, it is upon them to hire the top talent, and overseeing participation in HR matters holds primary significance.
Administer Compensations
This is one of the most important responsibilities that a VP of HR job has to perform because it encompasses an individual's livelihood. The VP should be aware of current market rates and positions before setting employees' wage levels, and they must ensure that salaries are up-to-date with labor markets.
For organizational effectiveness, HR expenses need to be steady. Therefore, the VP of HR has to instruct managers and executives on negotiating salary packages with prospective hires or current employees and determining their pay rate if they are already employed. In addition, they have to ensure that all management teams work for staff welfare by handling salary adjustments appropriately.
Review Organizational Policies for Compliance
Since the VP of HR is an executive-level position in HR operations, their job is to manage workforce planning, from recruitment and employee satisfaction to training and retention initiatives. In addition, the VP ensures company policies are compliant with all federal and state laws.
Specifically, organizations must follow employment law, along with equal opportunity and labor laws, and keep important acts like the disabilities act and the medical leave act in mind. The VP of HR ensures organizational development occurs by ensuring the organization follows labor relations to the letter and plans future policies accordingly.
Lead the Whole HR Department
The VP of HR is the top leader in its human resources department. They look after the entire HR business unit and any other departments that need staffing or recruiting skills.
The VP ensures that all HR executives are well-versed in the company's vision and provides career guidance to individuals looking to advance further.
A primary focus of their job includes addressing employee issues, providing guidance, and overseeing all facets of the HR process, from benefits to diversity steps.
Strategize Departmental Effectiveness
One of the VP of HR's duties is to offer strategic direction to the company. This involves giving insight into how the organization can recruit and retain talent and what specialized training initiatives are necessary. Therefore, the vice president should stay on top of current trends in human resources management and provide guidance when needed.
In addition to providing strategic input, they should have a strong understanding of organizational goals and work closely with other departments to support them in achieving their objectives.
Resolve Conflicts
As a leader, the VP of HR's job is to provide guidance and support to employees. It includes coaching on handling difficult situations, such as managing conflict among workers or dealing with potentially toxic staff members.
In many companies, the VO acts as an intermediary between management and their teams to help them understand company-wide policies, like exit interviews, and why they are important without being told by their direct seniors themselves. Additionally, vice presidents offer leadership when training new hires about what behaviors will help them progress their career smoothly or what ones will impact negatively.
Take Charge
While it may not always seem like a VP of HR is in charge, they are the ones who have to sign off on all hiring or firing decisions because these types of actions can have enormous implications for departments and the company environment.
The vice president conducts exit interviews with outgoing employees in some companies before leaving. Here an experienced vice president probes to know the real reasons for the individual's exit so that information helps design improved retention strategies in the future.
As a vice president of HR, you have to lead your department by establishing policies that reflect corporate culture while overseeing employee relations and developing strategies for better performance management. Another essential trait of a VP is understanding and predicting the business metrics of competitors. The VP also ensures that healthcare benefits or payroll administration programs satisfy employees' needs. Additionally, they provide leadership skills for HR executives at all times.
Conclusion
Many people assume that being an HR executive requires little effort. However, the human resources department manages all the details around the people that make up an organization. Therefore, it is unfair to dismiss HR roles like the VP of HR as it requires significant problem-solving, communication, and business administration abilities.
The VP of HR role is hardly just about technical or professional expertise. As you saw from the HR job description, it also involves addressing sensitive issues in mature, strategic, and fair ways. For example, you need to develop superior leadership skills and strong communication abilities when dealing with sensitive issues like discrimination or sexual harassment cases and coordinate benefits programs while overseeing payroll administration.
With the proper professional training and significant experience within the HR field, you can become a VP of HR who can deliver maximum efficiency. Modern organizations are increasingly becoming people-centric and, therefore, are constantly looking for talented individuals that be their VP of HR and establish an effective company culture.
---
If you are new to Human Resources and are looking to break into a VP of HR role, we recommend taking our HR Certification Courses, where you will learn how to build your skillset in human resources, build your human resources network, craft a great HR resume, and create a successful job trajectory that leads to the VP of HR role.