The field of human resources management is both exciting and important with numerous HR roles and HR jobs. As the link between employees and management, HR generalists play a vital role in the smooth operations of a company.
Besides handling HR functions such as recruiting and benefits administration, HR generalists also promote a positive work environment and resolve conflicts.
This variety of responsibilities makes the field of HR both challenging and rewarding. And because HR is essential to the success of any organization, those who work in this field enjoy a high level of job security. So if you're looking for an exciting career with good pay and excellent job prospects, a career in human resources may be the perfect choice for you.
What is a typical HR career path to becoming one of the most sought-after HR generalists? We list down the HR career paths for you to better understand career progression and become a successful HR professional with the most relevant HR skills.
What is the HR Generalist Career Path?
Human resources generalists are an integral component of the HR department, responsible for a wide range of personnel-related functions. They oversee recruitment and selection, training and development, employee relations, benefits and compensation, and health and safety. As an HR generalist, you will report to the HR manager, who further reports to the HR director.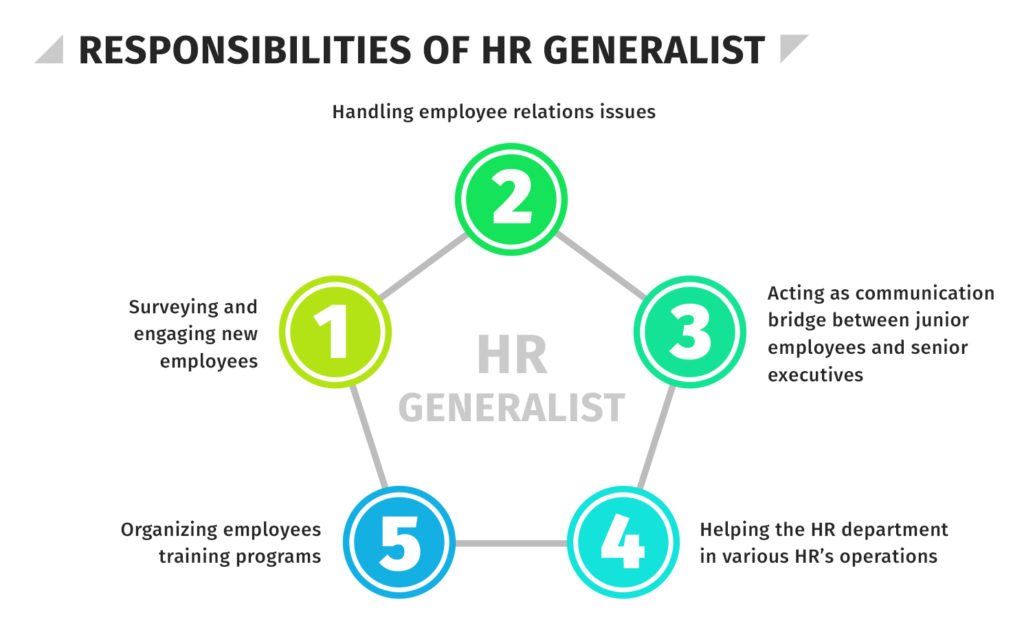 Many human resources generalists hold professional certifications, such as the Senior Professional in Human Resources (SPHR) or the SHRM Certified Professional (SHRM-CP). With experience, HR generalists can advance to positions such as HR manager or director.
If you're interested in learning via video, then watch below. Otherwise, skip ahead.
To secure an HR generalist position, you need a minimum of a bachelor's degree in human resources or a related field. But we recommend joining online courses and staying updated with human resources knowledge to gain more experience. HR University offers multiple human resource management certificates that will help you nourish your human resources career to become a human resources generalist.
The base pay for an HR generalist is $77,862, according to Glassdoor. This means there is an excellent career in becoming an HR specialist.
What Does an HR Generalist Career Path Look Like?
Let's study the career paths of an HR generalist in more detail. The human resources career path of HR generalists starts with the HR specialists.
HR Specialist
Human resources specialists are HR professionals, experts in various aspects of the human resources department, equipped with the right knowledge and skillsets to recruit new talent, facilitate training, and conduct new employee onboarding into the company. HR specialist focuses on one certain area of human resources and applies a higher degree of technical skill and specialized knowledge to benefit their organization.
Here are some specialist HR functions:
Benefits and compensations management
Employee and Labor Relations
Training and Development
Talent acquisition
Employee relations manager
Job responsibilities:
Help the HR officer in improving the hiring process.
Implement training and development plans.
Prepare and review compensation and benefits packages.
Organize company events.
Plan quarterly and annual performance review sessions.
Inform employees about additional benefits.
Update employee records.
Maintain organizational charts and detailed job titles, and descriptions along with salary records.
Forecast hiring trends.
Process employees' queries and respond on time.
Have a strong understanding of labor relations.
Preferred Qualifications:
Strong communication skills
Solid organizational skills
Good people skills.
Minimum Bachelor's Degree or a Master's degree preferred.
Experience supervising HR staff
HR Generalist
An HR generalist is someone who handles a variety of human resources tasks and initiatives. They often serve as a point of contact for employees and are responsible for managing employee records, benefits, and compliance with policies and procedures.
Job responsibilities:
Help in recruiting and training new employees.
Handling employee relations issues, such as resolving conflict and investigating complaints.
Effective communication with employees at all levels of the organization
Help the HR department in various HR processes.
May also administer performance management programs.
Onboarding new employees, conducting orientation sessions, and employee engagement sessions.
Develop and implement employee training programs.
Improve the HR administration process.
Preferred Qualifications:
Strong communication skills: Junior or senior HR generalist needs to communicate with employees at all levels of the organization. They also need to handle difficult conversations, such as performance reviews or disciplinary action.
Solid organizational skills: HR generalists juggle between multiple tasks and prioritize their work. They are comfortable working with data and have strong attention to detail.
Good people skills: HR generalists need to have the ability to build relationships with employees and create a positive work environment.
Bachelor's degree: At least a bachelor's degree in human resources or a related field. Some companies may also require certification from SHRM or HRCI.
Experience: 1 to 4 years
HR strategy: Solid grip in helping the senior management, HR teams, and other HR professionals in strategic planning.
HR Manager
The human resources manager is responsible for the administrative functions of an organization's human resources department. HR managers oversee the recruitment, orientation, and training of new hires. They also have excellent problem-solving skills and a strong grip on labor statistics. They also have the necessary HR expertise to manage employee records and benefits and handle employee relations issues.
Job responsibilities:
Partner with the leadership team including Chief Human Resources Officer, HR business partner, and the human resources director to understand and execute human resource and talent strategy.
Align the HR strategy with the HR coordinator, HR executive, and HR administrator to create a strong HR department.
Provide support and guidance to HR generalists, management, and other staff.
Administer and execute routine tasks such as providing reasonable accommodations, investigating allegations of wrongdoing, and terminations.
Manage the talent acquisition process, and hiring of qualified job applicants, particularly for managerial, and professional roles
Collaborate with departmental managers to understand requirements for training programs.
Analyze trends in compensation and benefits and propose competitive base and incentive pay programs to ensure the organization attracts and retains top talent.
Create learning and development programs that provide growth opportunities for employees.
Oversee employee disciplinary meetings, terminations, and investigations.
Maintain compliance with federal, state, and local employment laws and regulations.
Maintain knowledge of trends, best practices, regulatory changes, and new technologies.
Preferred Qualifications:
Strong communication skills
Solid organizational skills
Good people skills
Bachelor's degree in human resources or a related field
Certifications in HR or relevant field
5+ years of experience.
HR Director
The human resources director is responsible for all aspects of the human resources department. This is one of the senior-most positions in the HR department. After showing solid performance as an HR manager, the company can consider promoting you to the position of an HR Director. With better perks, a higher salary, and more job responsibilities, this position will cement your authority in the HR department.
Job responsibilities:
Development and implementation of policies and procedures.
Management of employee records.
Administration of benefits.
Coordination of training and development programs.
Management of payroll and taxes.
Provision of guidance and support to employees.
Serve as the liaison between the company and external organizations such as government agencies, unions, and professional associations.
Manage organizational budgets.
Introduce training programs for the HR staff and other employees.
Report to the CEO or President of the company.
Preferred Qualifications:
Excellent verbal and written communication skills.
Excellent interpersonal and negotiation skills.
Excellent organizational skills.
Excellent time management skills with a proven ability to meet deadlines.
Strong supervisory and leadership skills.
Ability to prioritize tasks and delegate whenever appropriate.
Thorough knowledge of employment-related laws and regulations.
Proficient with Microsoft Office Suite or related HRIS software.
Minimum 10 years of experience.
Minimum of bachelor's degree, Master's preferred with certifications in HR and relevant field.
Vice President HR
The Vice President of Human Resources is responsible for the overall management of the HR department. After gaining experience and showing positive results as an HR Director, the VP of HR is the position you need to aim for.
The VP of HR sets strategic goals, develops and implements policies and programs, and manages the budget. The VP also works with HR managers and other senior staff to ensure that the HR department is on the same page with the company's business objectives. The VP is also responsible for building and maintaining relationships with employees, union representatives, and other stakeholders.
As a VP of HR, you are also the Chief People Officer, responsible for leading the entire organization's goals and vision.
Job responsibilities:
Collaborate with executive leadership to define long-term mission and goals.
Identify loopholes in the HR strategy and close them through talent management.
Identify key performance indicators for human resource and talent management functions.
Assess organizational success and market competitiveness.
Research, develop, and implement competitive compensation, benefits, performance appraisal, and employee incentive programs.
Conduct unbiased investigations and escalate them to the legal and security team.
Ensure compliance with employment, benefits, insurance, safety, and other laws, regulations, and requirements.
Draft and implement the budget for the human resource department and the company.
Partner with the management to address day-to-day HR operational issues.
Supervise and lead the HR team in creating a cohesive employee experience.
Act as an employee champion and change agent.
Providing insightful crisis management advice.
Maintain knowledge of industry trends and employment legislation to ensure regulatory compliance.
Preferred Qualifications:
Minimum 10 years of experience in a senior position in the HR department.
Experience in strategic planning and implementation.
Deep knowledge of HR functions.
Ability to use metrics and analytics.
Knowledge of local and international labor law.
Hands-on experience in using MS Office and HRIS programs.
Excellent communication, interpersonal and organizational skills.
Minimum Master's degree in HR or relevant field with certifications.