Looking to know the difference between an HR administrator and an HR generalist? Here is detailed information about these HR roles for you to read and decide on the career you want to opt for.
HR generalists are HR professionals who work on HR operations continuity and educate and train all employees in an organization about the new and updated work policies. They make the work environment better and healthy to work in by ensuring that there's no bias and discrimination in the labor force.
On the other hand, HR administrators perform administration duties for the HR department. They support the human resource department by carrying out day-to-day tasks like maintaining paperwork, and managing HR documents and employee records. They also assist the HR managers in the talent acquisition process and help them onboard employees.
HR generalists are superior to HR administrators, and their duties vary based on their skill level. Human resources generalists work on people-related tasks, while HR administrators perform paper-related tasks.
If you're interested in learning more via video, then watch below. Otherwise, skip ahead.
This article provides a detailed guide on the differences between human resources generalists and HR administrators. Let's start.
HR Generalist vs. HR Administrator: What Do They Do?
As stated earlier, human resources generalists are senior to HR administrators, and their duties vary based on their job levels, skills, and technical/non-technical competencies.
Organizations prefer human resource generalists with at least a bachelor's degree in human resources management with 2-3 years of experience working in the HR department. While the same criteria apply to HR administrators; a minimum of bachelor's degree in human resources with 0-2 years of experience since it is an entry-level position.
Let's explore these two roles in detail:
What Does an HR Generalist Do?
A human resources generalist is responsible to oversee the operations going on in HR departments like:
Employee relations
Recruitment campaigns
Regulatory compliance
Employee training and development
Human resources generalists collaborate with HR managers to manage employee training programs and work for the betterment and growth of the department.
They look for updates in the department's and organization's policies to maintain a better and sustainable working environment for the labor force.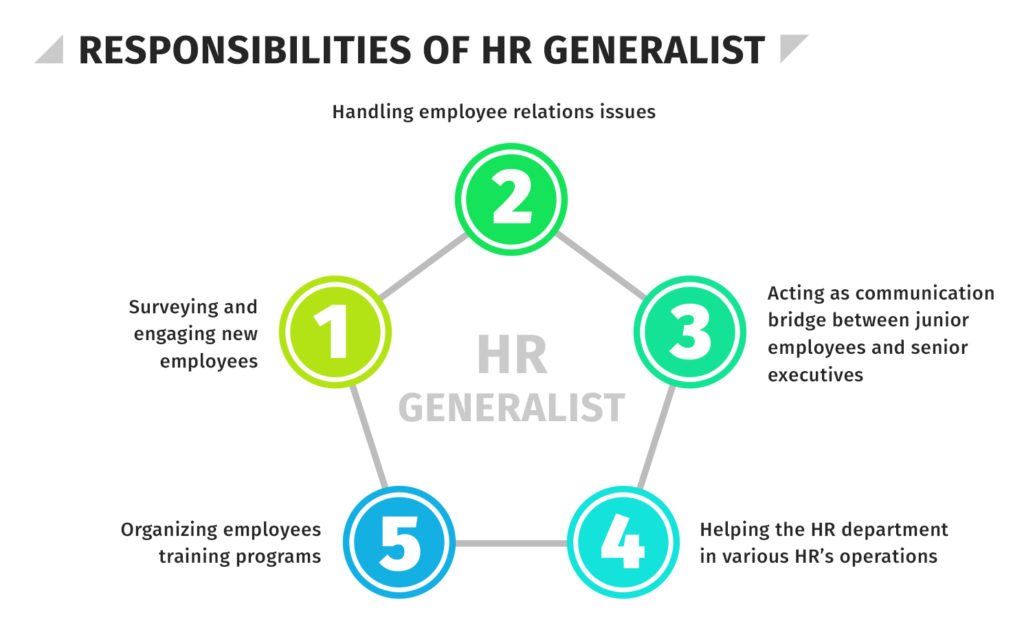 In addition to that, they look after the recruitment process. They assist the administrators in keeping the record and managers in screening job applications and analyzing them based on organizational criteria and work goals.
An HR generalist works to develop better employee relations management. They must provide valuable insights that enhance the relationship between employees and their relationship management.
Furthermore, they work for employee safety, wellness education, and welfare. Thus, their duties involve contributing towards the development of strategies that keep organizational employees safe and enhance their wellness.
Taking care of employee welfare and good relationship management involves looking after employee bonuses, compensation, and benefit programs.
HR generalists also establish the organizational values and culture and communicate these company trends with the employees to maintain the culture. On top of that, they also help the HR managers in developing business strategies that work for the betterment of business growth and employee experience.
In short, we can say that an HR generalist is responsible for people's duties, and works to hire the best talent for the organization's needs.
Looking to become an HR generalist? Master the HR generalist skills with our top-rated certification course here:
What Does an HR Administrator Do?
HR administrators handle employee and organizational paperwork such as employee work records, department progress reports, and employee record databases.
They take part in the employee onboarding processes by performing tasks related to the new hire paperwork and arranging new hires' office tools like laptops, desks, and tables. On top of that, HR administrators also assist the new employees by giving them a tour of the organization, their department, and their workspace. Furthermore, they set up training programs, orientations, and team meetings for the new workforce in the organization.
HR administrators handle the paperwork associated with employee compensation and benefits programs. They ensure the smooth processing of bonus payments, maintaining financial records, and working on employee health and safety insurance programs.
A majority of an HR administrator's day time is spent in employee communications. They tackle employee personal information, and process employee benefits, and compensation cheques. While less than half of their day time is spent on fulfilling duties like employee education and training programs and staffing duties.
HR administrators do not perform any strategic or operational activities in the human resources department. Their role is inclined towards fulfilling administrative duties and hence does not involve looking after technical HR processes in comparison to other technical HR roles.
In short, an HR administrator job description entails these responsibilities:
Maintaining employee records
Assisting HR managers with payroll
Human resource management
Updating the HR databases
Conducting orientations
Managing and running the human resources information system software
They assist the HR managers, and talent acquisition specialists in the recruitment processes and managing the job application files work. HR administrators also assist managers to fulfill their duties inside the HR department.
How do HR Generalists and HR Administrators Collaborate for Work?
HR is a diverse and dynamic department that requires strong teamwork from its employees.  In general, HR generalists look after people's tasks, for example, hiring and onboarding employees. During these tasks, they need paper assistance. This paperwork is the responsibility of the HR administrators.
Also, recruitment processes involve administrative tasks which are performed by HR administrators. While all the physical and operational duties are the responsibility of human resources generalists. Thus, an HR department works with the effective collaboration of both roles.
Who Earns More: HR Generalists or HR Administrators?
According to Glassdoor, HR generalists earn an average of $64k per year in the United States. This salary includes base pay of $59k per year, along with some additional allowances of $4-5k per year.
However, HR administrators earn $53k per year in the United States. They have a base salary of $50k per year, with $2-3k as additional allowances.
Thus, based on these numbers, an HR generalist earns more than an HR administrator in the United States. These numbers also testify to the fact that the human resources generalists are senior to HR administrators in the HR department.
HR Generalist vs. Administrator: Major Differences
Now that you know the job responsibilities, salaries, and collaboration of HR generalists with HR administrators, let's break down their skills, career paths, and work methodologies into visible differences for your ease.
Methodologies
HR generalist and HR administrator are two different roles with different work methodologies.
An HR generalist follows a people-oriented work methodology, which means that major time in their day is spent handling the people that are the employees of the organization. They onboard, guide, and train the employees based on the organization's requirements and culture. 
On the other hand, an HR administrator follows a paper-oriented work methodology, which means that they have to look after all the organization's HR documentation, employee records, HR progress reports, job application handling, and maintenance of HR databases.
Skills
HR generalists and HR administrators exhibit different skill sets because of different work methodologies. As an HR generalist is a dynamic role, their skillset is also homogenous. Here's a list of mandatory HR generalist skills:
Performance management skills
Communication skills
People's skills
Mentorship skills
Proactivity skills
Cultural skills
These skills provide a clear idea that the HR generalist is a role that is more inclined towards dealing with people and employees to carry out the organization's processes.
Have a look at the HR administrator skills to know more about the role:
Organization skills
Business administration skills
Time management skills
Flexibility and multitasking skills
Digital skills
Communication skills
Thus, from the above skills, you get the idea that an HR administrator's role is more of a management, administrative and organizational role.
Career Path
In general, HR generalists progress toward the HR manager's seat based on their skills and knowledge. Here are the human resources generalists' career paths in reverse chronological order:
HR generalist
Employee training specialist
Employee benefit specialist
HR manager
Human resource director
HR business partner
On the other hand, HR administrators work as HR assistants, HR specialists, and HR coordinators if they have specialized qualifications and competencies. Here's mentioned the career path for an HR administrator in reverse chronological order:
HR assistant
HR coordinator
HR recruiter
Talent acquisition specialist
Human resource management specialist
HRIS specialist
HR manager
HR director
Keep in mind that your career advancement is in your hand and depends on your learning ability and progressing power. Continue upskilling your knowledge, skills, and qualifications to avail career perks.
Conclusion
HR generalist and HR administrator, both are entry-level roles to start your career in HR. By working in these positions, you can master the most basic yet fundamental HR skills beneficial for career progression. You can also enroll in an advanced HR certification course to master the skills and fulfill the prerequisites to get into one of these roles.
FAQs
Here are answers to the most asked questions regarding HR generalists and HR administrators:
Which one is Better: HR Generalist or HR Administrator?
If you compare these roles based on pay rate, then an HR generalist always earns more than an HR administrator. Hence, if your goal is to seek a high-income profession, an HR generalist is a good option.
Preferences vary based on interests, skills, and competencies for the roles. For a non-technical person, the HR administrator's job is suitable in comparison to other HR jobs such as an HR analyst or an HR specialist.
If you are social and like to interact with more people, then the HR generalist's job is a perfect choice for your nature and interests.
Can an HR Administrator Become an HR Generalist?
Yes. As long as you are eager to learn and grow, you can always secure higher roles. With the right learning, experience, direction, and potential, an HR administrator can become a generalist. Keep in mind that, an HR generalist must have good people and communication skills. You must work on improving these skills along with a portfolio to showcase your ability, skills, and willingness to become an HR generalist.
---
If you are new to human resources and are looking to break into an HR generalist or HR administrator position, we recommend taking our HR Certification Courses, where you will learn how to build your skillset in human resources, build your human resources network, craft an excellent HR resume, and create a successful job search strategy that lands you a sought-after HR generalist or HR administrator job.