What separates an HR specialist from an HR generalist? Find out here. 
An HR specialist specializes in the HR basics and processes and is thus responsible to perform that specialized task, however, an HR generalist is an all-rounder who works from recruitment, to payrolling to employee benefits. 
This article covers in detail the difference between an HR specialist and an HR generalist. Brief detail on day-to-day responsibilities, salaries, skills, path trajectory, and certifications for each role is provided below.
Let's start. 
HR Specialists vs. HR Generalists: What Do They Do?
The human resource specialists as clear from the name are specialists in certain HR processes like employee satisfaction, recruitment, and others. Although their day-to-day responsibilities include handling other human resource tasks like assisting the HR directors and Managers with application scanning and more. However, specifically, they are solely responsible for the task they have specialized in. 
On the other side, a human resource generalist is more of a general human resource role. They are responsible to manage multiple HR functions at one time, like recruiting the staff, screening and scanning applications, onboarding employees, maintaining employee records, and much more. 
Detailed information on the duties of both these roles is provided below so you can read and know the basic difference. 
What Does an HR Specialist Do?
An HR specialist is responsible for screening, interviewing, recruiting, and placing employees in an organization.
This senior specialist's role is specialized in an HR function and is specifically responsible for the tasks they have specialized in like handling employee relations, looking after employee compensation, and benefit programs. They are responsible for successfully carrying out the assigned task, preparing progress reports with detailed statistics and analytics, and thus are crucial for the HR department's growth and success. 
Organizations hire candidates who can successfully contribute in a specific HR area through their skills and expertise. 
Moreover, human resource specialists are responsible to assist the senior management in developing and implementing the right strategies for candidate selection, and application interviewing processes. A human resources specialist is also responsible to provide a specialist's level advice on intricate HR matters and ensure that these practices comply with legal rules and labor statistics.
Apart from all the above, HR specialists' responsibilities also include supervision, coordination, and collaboration with other HR workers to carry out all the tasks. Human resource specialists analyze both the long and short-term business requirements after analyzing the goals, and then work on the fulfillment of those needs. 
What Does an HR Generalist Do?
An HR generalist is responsible to assist all HR professionals to keep the HR going. They are responsible to take part in the fulfillment of a broad range of HR functions instead of focusing on one task, unlike a human resource specialist. 
HR generalist is an entry-level role, and they are expected to handle any sort of human resource tasks that range from recruiting employees to handling their data. 
To be more specific, a human resource generalist is responsible to screen the job applications, interviewing the candidates, onboarding employees, and assigning them their workplaces. Moreover, they are also responsible to train employees, make them familiar with the work palace and organization's ethics, handle employee relations, and managing payroll as well.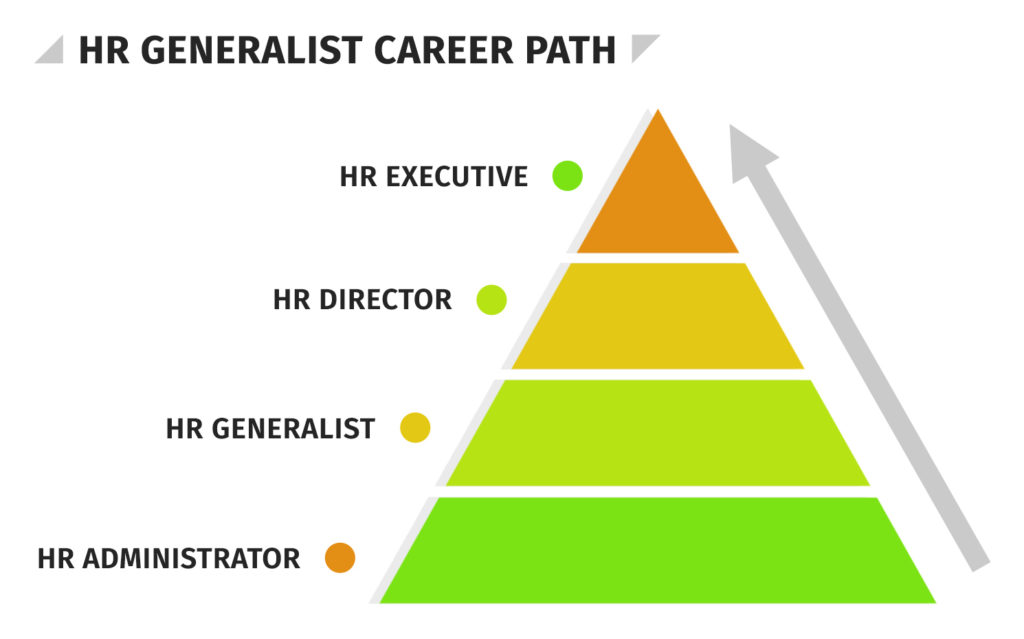 As the human resource generalist's role is more of a general role, there's no such specific duty to point out their job responsibilities. They are also expected to have complete legal knowledge of labor laws and workforce rules. 
HR generalists typically assist the HR professionals and seniors in decision-making processes. They play a major role in the organization's professional development and ensure whether the employee's duties and work traits comply with organizational policies or not. 
How Do HR Specialists and HR Generalists Work Together?
HR specialists and HR generalists are both entry-level roles, who often have to collaborate to successfully carry out the task.
As a human resources specialist specializes in a task, for example, employee satisfaction and relations, they will need to perform it with greater efficiency through the help of a human resource generalist who has enough skills to practically implement the instructions forwarded by the specialist for the employee benefitting programs. In usual cases, a human resource specialist will draft the strategies for the task, however, the HR generalist will be responsible for practically implementing those strategies and instructions. This is how both these roles collaborate to carry out human resources programs.
Who Earns More: HR Specialist or HR Generalist?
According to Glassdoor, an average human resource specialist earns $63,000 per year in the United States. This total salary entails a base salary of $43,000 per year and additional increments and bonuses of $20,000 per year in the United States. The most likable salary range for a human resource specialist starts from $40,000 and ends at $105,000 per year. 
On the contrary, a human resources generalist earns $69,000 per year in the United States according to the stats provided by Glassdoor. This figure includes $51,000 as a base salary and an additional $18,000 in the form of increments and bonuses. However, a human resources generalist's salary can fall anywhere in the range of $42,000-$117,000 per year in the United States. 
Thus, based on these stats by Glassdoor, a human resource generalist earns more than a human resource specialist. However, this statement is proposed based on the Glassdoor stats. However, in some cases, exceptions may occur due to experience and qualifications. 
Becoming an HR Specialist vs. HR Generalist
Let's have a detailed look at what career paths look like for both these roles, and what skills are required for each of them to perform professionally. Moreover, a brief guide on certifications for both these roles is also available in the last section of this article.
Career Path
When it comes to the HR career path for these roles, both these roles start from an entry-level position and advance towards senior and executive HR roles. 
A human resource specialist is promoted to a senior human resource specialist or an HR generalist. However, human resource generalists are promoted to the HR managers or assistant human resources managers based on their technical, practical, and leadership competencies.
Here's provided a career path for a human resource specialist in order:
Human resource specialist

Senior human resource specialist

Human resource generalist

Human resources manager

HR coordinator

HR director
On the contrary, below is provided the career path for an HR generalist's role in order:
Human resource generalist

Junior Human resource manager

Assistant HR manager

HR manager

HR director
As you can note, both these roles proceed towards the same executive roles. However, the original trajectory can be different in each organization based on their policies and promotion rules. 
Both a human resource generalist and human resource specialist require at least a bachelor's degree in human resources along with 0-2 years of proven experience. However, the salary benefit can be leveraged with some specialization through acquiring certifications and through higher education. 
Skills
Human resource generalists and human resources specialists both need to be excellent with digital skills like familiarity with human resources information systems. However, specialized knowledge of their job field is also mandatory. Let's have a look at the detailed skills required for these roles. 
Below are provided human resource specialist skills:
Data analysis and performance reviewing

HR skills

Legal knowledge

Employee benefitting 

Interpersonal intelligence

Attention to detail

Technical HR skills

Verbal and non-verbal communication

Cultural awareness

Commercial awareness

Employee experience

Accounting and budgeting
Below are provided human resource generalist skills:
Excellent verbal and written communication skills

Time management

Skills to work in a fast-paced environment

Excellent HR knowledge

Strong human resource management and employee handling skills

Technical HR skills

Recruiting, screening, interviewing, workforce planning, and onboarding skills

Administrative skills

Managing priorities

Advising

Analytical and data-driven skills
Take a look at our top-rated certification programs to nourish and upskill your knowledge to become better human resources professionals and to master these above-mentioned skills for the human resource generalist and HR specialist's role:

Certifications
Courses and certifications allow human resources generalists and human resources specialists to demand a promotion or a salary increase. Also, if you're a newbie, and looking to jump into the HR world, getting a certification in an HR course will not only enhance and shape your resume but will increase your chances of selection.
However, note that certifications for a human resources generalist, and HR specialists are different as these two demand different skills. However, some small or startup organizations may hire one person for both roles. 
Below are provided some options for courses that you may scroll through and enroll in based on your needs. Take a look at some of the best and top-rated HR courses that you can take to learn the actual difference between these roles and to enhance your skills:
HR Management Certification

: With this course, you can explore the management side of your HR career. It is a perfect choice for HR generalists and HR specialists who are looking to enhance their human resource management and communication skills so they can progress towards the human resource manager's role in the HR department. 

HR Generalist Certification

: This HR Generalist certification is one of the most appraised and top-rated courses that allow you to deeply learn HR generalist skills. Any HR professional looking to excel in their career as an HR generalist can enroll in the course to get the benefit of its unique course learning outcomes and to master the crucial HR generalist's skills. 

Diversity and Inclusion Certification:

This diversity and inclusion certification allows you to learn the diverse side of HR to build a better and healthy workspace and human resources department and enhance labor relations. This course is a great option for HR generalists as these diverse skills are the must-have crucial skills for the role.




---

If you are new to Human Resources and are looking to break into an HR Specialist or HR Generalist position, we recommend taking our HR Certification Courses, where you will learn how to build your skillset in human resources, build your human resources network, craft an excellent HR resume, and create a successful job search strategy that lands you a sought-after Human Resources Specialist or Human Resources Generalist job.