Want to become a change manager? As the culture, structure, and technology change in the organization, the need for change managers has also escalated. Without effective change management, an organization can quickly become bogged down and unable to adapt to new circumstances. Change management is becoming an increasingly popular field as more and more organizations realize the importance of change management to stay competitive.
A change manager is a professional who helps manage and oversee changes within an organization. They work to ensure that changes are made in a controlled and efficient manner and to meet the organization's goals.
Becoming a change manager does not happen overnight. It takes time, effort, and dedication to learn the necessary skills. However, it is possible to become a change manager with the right training and experience. This guide will go through the necessary tips and steps you need to take to become a change manager.
To learn more via video, then watch below. Otherwise, skip ahead to continue reading.
Step 1: Get a Bachelor's Degree or Certification
A change manager needs to learn about the fundamentals of business and management. They need to know about various operations in a company and how they work together. The best way to do this is by getting a bachelor's in business administration, HR management, or a related field.
You should take courses in organizational behavior, human resources, psychology, and sociology during your degree. These courses will give you a solid foundation to build your change management knowledge. Also, try to learn about marketing and logistics, as these can help understand how changes can impact different areas of a company. Following are some of the key details you must know about change management:
What is change management?

How does it work?

Why is change management necessary?

Steps involved in change management

Benefits of change management

Principles of change management

Tools and software for effective change management

Risk mitigation tactics
The topics mentioned above will assist you in understanding the change management process and help you implement it in your organization. It also guides you on how to improve your skillset to excel in the change management career.
Acquiring a degree will help you familiarize yourself with the basic concepts of change management and provides you with an opportunity to apply those concepts in the real business world.
While focusing on business and human resource management skills, you also need a comprehensive understanding of project management principles. Project management practices and tools will be helpful in planning and executing changes within an organization.
Step 2: Acquire a Change Management Certification
Once you have completed your degree and have gained some experience in the field, you should consider getting a change management certification. A certification will help validate your skills and knowledge and make you more attractive to potential employers. It will also reinforce your technical skills making you more confident when implementing changes.
Various certifications are available in the change management field, so it is essential to do your research and find a reputable one. Following are some of the most acknowledged change management certifications:
Change Management Specialist (CMS)

Prosci Change Management Certification

Certified Change Management Professional (CCMP)

Certified Problem and Change Manager (CPCM)

AIM Change Management Certification

Prosci Change Management Certification

APGM Organizational Change Management Foundation
These certificates enable you to show your employer or client that you are dedicated to the change management field and have the necessary skills to help implement changes successfully. Some of these certifications also require you to have a certain amount of experience before taking the exam. So, it is vital to check the requirements of each certification before you decide which one to pursue.
Step 3: Gain Experience (Optional)
While a degree and certification are essential, they are not enough to make you successful in change management. It would be best to have on-the-job experience in managing and implementing changes.
The experience will help you understand the challenges of trying to implement changes in a real business environment. It will also allow you to try different change management techniques and tools and see what works best in different situations.
You can get the experience by working as a change management consultant or in-house change manager. Alternatively, you may also get involved in change management projects in your current job, even if it is not your primary responsibility.
Looking to get into human resource management field? Our top-rated human resource management certification can enable you to nourish your skills and become an expert HR professional. Enroll right now to grasp the most advanced knowledge:
Step 4: Create an Attractive and Unique Resume
A resume and cover letter are essential tools when looking for a job. Your resume or cover letter is the first thing an employer will see, so it is crucial to make a good impression. It depicts how you present yourself and your qualifications to a potential employer. It also shows your competence in the field.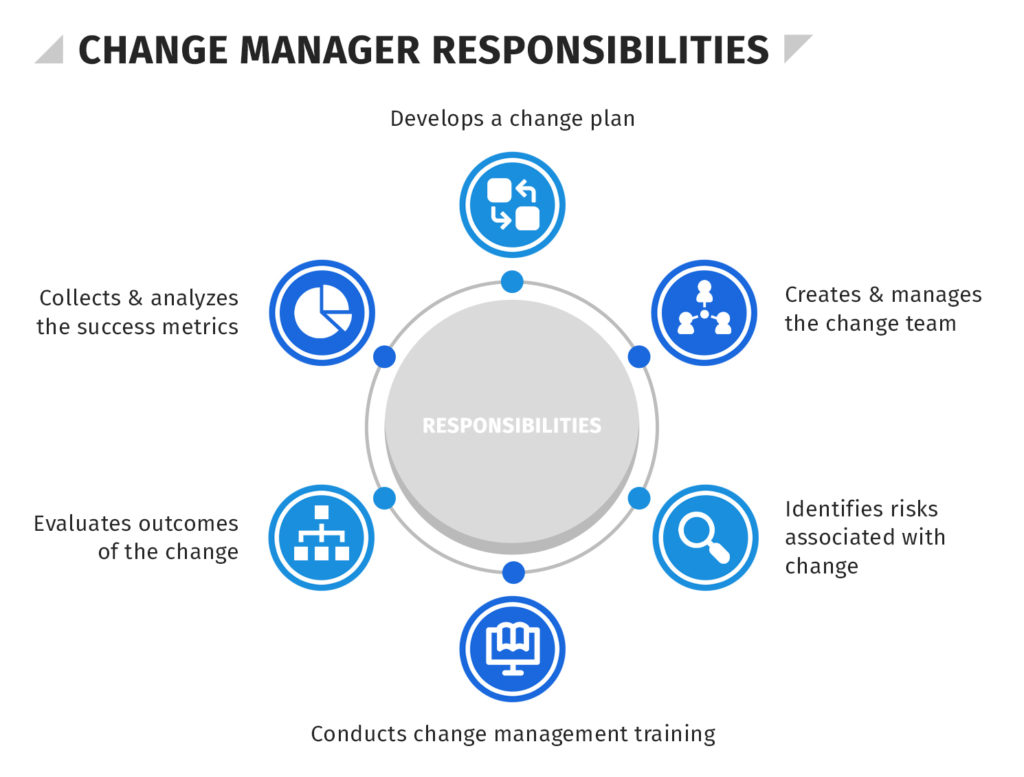 To make your resume or cover letter more attractive and unique, include a summary of your change management experience and highlight any successful projects you have worked on. You should also list any relevant certifications or training you have completed. You should also include any relevant coursework you have completed and any change management tools or techniques you are familiar with.
If you lack experience in change management, you can highlight technical skills, including programming languages, platforms, and software that you are familiar with. You can also list other relevant skills such as problem-solving, critical thinking, or communications.
If you don't have change management experience, you can still include other relevant experiences. For example, if you have experience leading teams or projects, this would be beneficial to include.
How to Become a Change Manager Without Experience?
It's a wrong conception that you can't start a change management career without experience. Although having experience helps you understand the job better, you don't need to have the experience to become a change manager.
If you have a degree in business or related fields, you can start by taking change management training programs. They will help you understand the basics of change management. You can also read books and articles on change management to learn more about the topic. You can also become a change coordinator responsible for coordinating change management activities.
As you start working in these roles, keep adding your accomplishments to your resume. You should also look for opportunities to learn and grow in your roles. After gaining some experience, you can apply for senior roles as change manager or change lead.
How to Prepare Yourself for Change Manager Role?
Change manager role involves complex responsibilities. You need to be prepared before taking on such a role. There are various ways to prepare yourself, which include:
1. Stay Up To Date With Advanced Tools and Software
Technology is evolving rapidly, and change management is no exception. To be a successful change manager, you need to be familiar with the latest tools and software. It will enable you to manage changes effectively and efficiently.
Advance change management tools and software enable you to automate various tasks, such as creating change requests, updating the CMDB, and generating reports. It also helps you to track and monitor changes easily. They allow you to manage and control changes effectively.
Some of the popular change management tools and software include:
Whatfix

Hippo CMMS

ServiceNow

BMC Remedy

CA Service Desk Manager

Kaseya Traverse

ServiceNow Change Management

BMC Remedy Change Management

CA Service Catalog

IBM Maximo Asset Configuration Management
2. Soft Skills
In addition to technical skills, change managers also need to have soft skills. You can get these skills through training, experience, or education. By adopting these skills, you will be able to efficiently perform your duties as a change manager.
Soft skills allow a change manager to efficiently deal with various stakeholders, such as business users, IT staff, and senior management. Change managers have to face different types of people with diverse personalities. They need to be able to adapt their communication style according to the situation.
Expertise in soft skills enables a professional to disseminate information effectively, build relationships, and resolve conflicts. It enables them to persuade and influence people. Some of the essential soft skills for change managers include:
Communication

Interpersonal skills

Organizational skills

Problem-solving

Decision-making

Negotiation

Leadership skills
3. Build Emotional Intelligence
Emotional intelligence is the ability to be aware and understand emotions. It also involves the ability to control and express feelings. Change managers need to have the emotional intelligence to deal with various stakeholders during a change effectively.
Change managers need to have the emotional intelligence to succeed in their roles. They need to understand and control their emotions and the feelings of others. Understanding emotional intelligence enables you to grasp the social complexities of an organization and navigate through them. Emotional intelligence is a crucial skill that you can improve with practice. There are various ways to enhance emotional intelligence, which include:
Identifying your emotions

Understanding why you feel certain emotions

Managing and regulating your emotions

Handling relationships effectively
FAQs
Here's a list of frequently asked questions regarding a change manager:
What qualifications do I need to be a change manager?
You can take various professional qualifications to improve your chances of becoming a change manager. These qualifications will make you more knowledgeable and skilled in change management. However, many change managers have a bachelor's degree in business administration or management. Understanding business processes, management operations, and labor statistics can help you manage change effectively.
Some organizations may prefer candidates with a master's degree in business administration (MBA) or a master's degree in human resource management (MHRM) for senior management positions. However, having a higher degree is not a prerequisite for becoming a change manager.
Do you need a degree in change management?
You don't need a degree in change management to become a change manager. However, pursuing a degree or certification in change management will make you more knowledgeable. It will also give you an edge over other candidates who don't have a change management qualification.
How do I become a change management specialist?
You can become a change management specialist by taking on additional responsibilities related to change management in your organization. You can also pursue a master's degree or certification in change management. By becoming a change management specialist, you will be more knowledgeable and skilled in change management.
To become a specialist, you need to have vast experience handling change management projects. You should also be familiar with the various tools and techniques used in change management. Moreover, you should have excellent communication and interpersonal skills. These skills will enable you to effectively manage different stakeholders during a change.
What makes a good change manager?
It takes a lot of hard work and skills to succeed in change management. They need to be adept at developing effective change strategy, planning, and execution. Excellent communication is also a crucial skill for change managers.
Change managers have to learn about time management as well to be successful in their roles. They need to be able to juggle multiple tasks and prioritize effectively. Being organized and detail-oriented are also essential qualities of a good change manager. Handling pressure in the most unfavorable conditions is another crucial requirement.
They need to be able to persuasively sell the change to various stakeholders and get their buy-in. Additionally, change managers need to have strong emotional intelligence skills. They should be able to understand and control their emotions and the emotions of others.
How can I make changes as a manager?
There are various ways to make changes as a manager. You can start by developing a change plan. A comprehensive plan will help you map out the steps you need to implement the change. You need to communicate the change plan to all the stakeholders involved. It is vital to discuss the plan with them before implementing the changes. You should also involve them in the change process so that they can provide valuable input.
Once you have developed a plan and communicated it to all the relevant stakeholders, you need to implement the changes. You should monitor the progress of the changes and make modifications as necessary. You need to measure success metrics to ensure that the changes have the desired effect.
As a manager, you also need to be prepared for resistance to change. You should have strategies in place to deal with resistance. You should be open to feedback and willing to make changes to the change plan based on feedback.
---
If you are new to Human Resources and are looking to break into a Change Manager's role, we recommend taking our HR Management Course, where you will learn how to build your skill set in managing change, build your human resources network, craft a great change manager resume, and create a successful job search strategy in the change management field.