Looking to know the director of people skills? This article provides a brief on fundamental skills for a director of people's role.
The director of people's responsibilities range from dealing with HR employees to managing the entire organization's employees in the big picture.
The role of the director of people requires a candidate with expertise in HR laws and regulations, with 6-10 years of HR experience, along with necessary academic qualifications. Let's go through the essential director of people skills:
What are the Key Skills of a Director of People?
A director of people's principal duties include maintaining a positive culture, managing employee experience, and increasing productivity.
Employees are important assets for company performance. Organizations hire a skilled director of people who works towards creating a positive work experience for the employees, motivates them to deliver on the company's strategic goals, and exhibits great people management skills.
Here are essential skills that you must exhibit to become a director of people:
1. Technical Skills
A director of people plans, leads, oversees, and coordinates employee activities, and thus exhibits technical skills. They are responsible for bringing employees under one roof, on one page, thus they must exhibit command over the technical skills mandatory for this role. The basic technical skills required by a director of people are:
Digital literacy. A director of people must understand how digital analysis and work management platforms work. Leveraging such tools not just eases their day-to-day tasks, but also provides a chance to integrate tools for the automation of repetitive tasks like administration and employee data entries. Digital literacy enhances one's people management skills and improves the management style. Thus, a director of people must exhibit digital proficiency with soft skills and tech tools.
Data management and analytics. A director of people manages employees of an HR department, but sometimes the scope of their duties spreads to the whole organization. They handle advanced technical tools that allow easy management of employee data along with features to observe the detailed analytics these data provide. In addition to that, a director of people collects data associated with the organizational operations to analyze it and find potential trends. A director of people then communicates the final findings to HR analysts for further processing and needs. In short, they must exhibit exceptional people management skills for professional development.
A director of people makes use of tech tools to serve even better and in the best favor of their organization for professional development.
2. Interpersonal Skills
Interpersonal skills are fundamental for a director of people's role. These skills help them maintain employee relations and cultivate norms that promote employee productivity, growth, and innovation in the organization.
As a director of people works with cross-functional team members, thus below mentioned interpersonal skills are must-have traits for this role:
Active Listening. A director of people listens to understand the employee's perspectives and their queries and concerns. Active listening allows you to pay attention to the opposite's conversation and learn from their thought process. Through active listening, HR directors promote employee engagement and thus help in developing a productive work environment.
Selflessness. Your employees trust you, even more, when they realize that you are there to work for their and the organization's betterment. This trait of selflessness means valuing the employees under your supervision and benefiting them through incentives offered by the organization. Sometimes, the director of people also plans regular one-on-one sessions with your coworkers to tell them about their value and importance. Such practices result in developing loyal employees.
Interpersonal skills boost employees' confidence in themselves and the organization, thus they work even harder to target productivity goals and develop an effective team.
3. People Skills
As the role title itself says director of "people", it elaborates on the importance of people management skills. People skills are the skills to effectively manage, handle and deal with coworkers' and employees' queries.
A director of people must understand employee expectations, and then work on them keeping in view the business goals. It requires good people management skills since you are responsible to manage people's expectations and company goals at the same time.
People skills demand the expression of empathy with the employees. Exhibiting a genuine interest in employees make them confident in themselves working for you. This way, you also develop a better hold on them.
Some important people management skills every director of people must exhibit include:
Good judgment
Flexibility
Showing interest in a team member
Positive sense of humor
Open-mindedness
Awareness of body language
Micromanagement
Our HR diversity and inclusion certification allow you to master these fundamental director of people skills:

4. Communication Skills
Communication skills are the most important skills that a director of people must exhibit for effective employee management. Effective communication helps create better relations between employees of different teams and departments within an organization.
As a high authority figure, the director of people ensures seamless communication by making use of the best practices for effective tasking and implementing practical changes. Good communication skills mean:
Communicating with employees at different levels. The director of people's responsibilities include handling employees during their whole work journey, from the time they enter the company to the time they exit the company. A director of people as a good manager must exhibit the right traits to deal with the different needs from helping an employee fit in the organization to assisting them with their retirement plans.
Using technology and collaborative tools to increase productivity. The director of people implements any tool needs that lead to improved results. Managing multiple workflows and employees requires the use of different collaborative platforms for effective communication between teams. Hence a director of people must understand the use of the right tools to effectively fulfill their duties.
Practicing transparent communication. Transparent communication is a clear, honest, and informative type of communication that builds trust and respect. A director of people uses transparent communication to explain tasks, manage teams, resolve work conflicts, and assign tasks. As ideas are shared, transparent communication removes general communication barriers and encourages innovative problem-solving skills for great leaders throughout the organization.
5. Strategic Skills
Aside from good management skills, the role requires excellent strategic decision-making skills. An ideal director of people makes efficient, acceptable, and productive decisions for every employee within the company.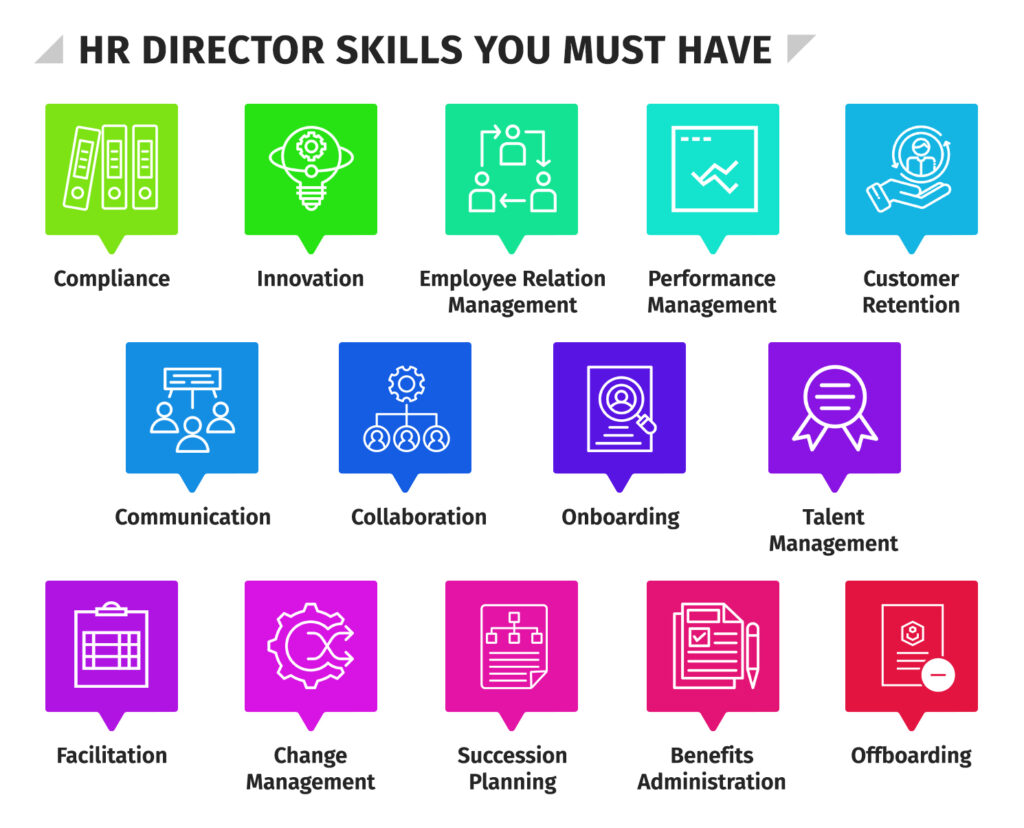 Here are a few categories for strategic skills:
Implementing company vision. With every decision they make, a director of people ensures it must follow and respect the company's vision. They align employees' tasks to the overall company goals and establish the need to follow the company's vision for strategic business growth.
Aiming to improve the employee experience. Positive employee experience is a proven factor for company growth. It motivates employees, establishes a positive work environment, and removes negative elements from the workspace. It helps to organize events that aim at boosting employee morale and interpersonal relations. A director of people achieves all this with good strategic and people management skills.
Developing new strategies to adapt to changes. An ideal director assesses the required changes and implements practical strategies to boost the company's growth. Successful strategies reflect long terms goals and detailed objectives. The director of people monitors their strategies to ensure there are no negative repercussions on planned objectives and goals.
6. Accountability Skills
It is necessary for the director of people to recognize that accountability is a big part of their responsibility. It helps to boost employees' confidence when seniors accept, forgive, and learn from their mistakes. Such practices lead to stronger work culture. Here are the sub-categories of accountability skills:
Appreciating good work. A director of people must appreciate employee performance and highlight excellent results. This practice motivates other employees and thus generates a ripple effect. Good directors leverage this practice to increase workforce productivity.
Practicing honesty. Transparency is fundamental in communication. A good director practices honesty in favorable and unfavorable situations. This builds employee trust in you. Hence, honesty from a director of people leads to better team member work and confidence in their job.
Practicing time management. A director establishes a work balance and time management protocol efficient for all company employees. It is important to know and handle any activities or commitments that disturb the work balance and waste time. A good director of people uses time-blocking skills to ensure that the employees accomplish tasks in the target time with appropriate focus and attention.
7. Leadership Skills
A director of people must exhibit excellent leadership skills. They must exhibit a strong, positive outlook for employees to depend on. Good leadership motivates every employee to achieve their best. Therefore, it is important for the director of people to exhibit a strong standing that employees respect and learn from. Here are a few traits that reflect excellent leadership skills:
Leading by example. A good director involves in the process to make the employees more comfortable. By setting a healthy standard and a good example, a director helps employees to set realistic goals and achieve more productive results. It also helps to increase employee morale and drive them towards a more positive work environment.
Defining a work ethic. It is important to promote and implement healthy practices in the workplace. A good director leads by example and ensures a refined and professional work ethic. As a good leader, the director of people must exhibit a work ethic that shows responsibility, and ensure good communication, and commitment.
Helping employees with career pathing. Good leaders focus on building up productive and skilled people. A director of people helps employees with career pathing, which involves laying out the potential course of progress for the employee within the organization. Such activities boost employee confidence and loyalty, in the short term and the long term.
A director of people foresees and tackles new challenges with a cohesive vision. In addition to that, they work as a role model for the whole team and provide all the answers and solutions to improve employees' work.
Conclusion
The director of people is an excellent position for candidate with the right HR experience, qualifications, and HR skill set. Thus, if exhibit all these mandatory skills, start applying to the right roles. Before applying, ensure that you have these seven skills:
Technical skills
Interpersonal skills
People's skills
Communication skills
Strategic skills
Accountability skills
Leadership skills
As the director of people is a position with a wide range of people responsibilities, the ideal candidate must exhibit refined people skills, problem-solving skills, and a sense of leadership all the employees of their organization can depend on. Continuing upskilling your knowledge and skills is a good step to boost your career as a director of people.
---
If you are new to human resources and are looking to break into a director of people position, we recommend taking our HR Certification Courses, where you will learn how to build your skillset in human resources, build your human resources network, craft an excellent director of people resume, and create a successful job search strategy that lands you a sought-after director of people job.