The processes, technologies, and goals of an organization change with time. As these factors change, it becomes necessary for employees to learn new things, acquire new skills, and adapt to the changing environment of their place of work. Change management interview questions help companies ensure their employees are prepared and capable of handling the changes.
When companies hire employees to fill new positions, they bring new employees into the company at a time of change. By using change management interview questions during the hiring process, companies can determine whether or not the candidate can handle the change that the company is experiencing.
Candidates are interviewed to learn all about them and see whether they are a suitable match for an available position by the hiring manager. How deep you pursue the employment process depends on how well you answer interview questions.
To learn more about change management interview questions via video, then watch below. Otherwise, skip ahead to continue reading.
Change Management Interview Questions to Ace Your Interview
If you've ever worked in an environment where you had to deal with constant change, a potential change manager may inquire about how you handled it. We've compiled a list of interview questions and answers for change management interviews in this post.
1. What Do You Know About Change Management?
For implementing change, you need to know what change management is and how it works. Change management knowledge is necessary for any organization that wants to improve by making changes. Hiring managers can gauge candidates' knowledge about change management by asking questions in a job interview that will help them determine how well they understand the concept.
An example to answer this question is, "I know that it is a set of change management processes and tools that help an organization adopt and implement change. It reduces the resistance from people who are affected by the change and minimizes the risk of change failure. I know that it is associated with positive organizational change, but we can use it for the termination of employees, or when jobs are eliminated."
2. What Do You Know About the Qualities of a Change Manager?
You can't become a change manager without knowing what qualities make a change manager. Knowing the qualities of a change manager is vital if you are dealing with the challenge of implementing changes. Hiring managers are checking to see that you are aware of the qualities that make up successful change management.
You can answer this interview question as: "There are many qualities that make up a good change manager. I know that communication is key, which is why it's important to listen to your team members and the people who are affected by the change. Configuration management database is also important to become aware of, and you need to know which tools can help you do your job. I believe that knowing the people on management teams is also important. Not only do you need to know what they want, but you'll also have a better understanding of the organization's goals."
3. How Would You Respond to a Project Manager's Request to Change Your Work Style?
This is one of the crucial managing change interview questions for a project manager. If you've been working on a project for a while and have come to understand the people in your team, it is tough to adjust to a new work style and deliver the same quality of work. If you can't deal with change, you'll run into a lot of problems in your career.
Being a member of a project requires a willingness to change. Hiring managers want to believe that you can adjust your work style to the task at hand no matter what. To provide an interviewer an accurate portrayal of your thinking, think about how you'd reply to a change request from a higher-up.
An example of this is: "I consider myself a flexible worker who is willing to adjust to my manager's wishes if she asks me to do so. That which they want me to do is in the greatest interest of our project group, and I am confident in their decision. Asking my management why they want to modify anything will help me better grasp what they want and how to implement it in future projects."
Looking to master some advanced management skills to enhance your knowledge so you can rock your interview? Don't forget to check out and enroll in our top-rated HR management course:
4. In What Ways Have You Been Resistant to Change in the Past? How Did You Deal With It?
Change is difficult for people to accept, but change is inescapable when you're in a management position. The question hiring managers ask you refers not only to the past but also to what you'll do in the future. They want an answer that reflects your ability to accept change and work towards making necessary changes. Even if you don't like the thought of making a change, a project manager needs to understand how well you'll handle the situation. However, adjusting to a new position is necessary most of the time if you want to advance in your profession.
As an illustration: "We were rebranding our firm while I was working as a graphic designer, and the marketing manager assigned me the duty of upgrading all of our marketing materials. Since the present branding and messaging resonated so well with our target market, I was adamantly opposed to any alterations to that strategy. Asking my boss why the modification had been made and expressing my perspective on broad graphic design principles helped me better grasp why I was dubious of the upgrade."
5. How Do You Deal With Changes in Your Work Environment?
It's normal for workplaces to change, but employers want to learn how you'll respond to them. If you can't adjust to change without sacrificing quality, you won't succeed. A recruiting manager asks you this question if they plan on bringing in new people to your team.
Dealing with change in your work environment requires knowing how to adapt to changing conditions. Many organizations experience changes in their work environment that can affect productivity, cost, and quality. An employer for a change management position will want to gauge a candidate's willingness and readiness to accept a work environment with rapid changes.
The following is an example: "In order to manage change, I begin by determining why the change is being implemented in the first place. After that, I adapt to the needs of my job and my team members. When I'm looking for methods to enhance my workplace, I'm open to change."
6. If You've Ever Had to Persuade a Group of People to Embrace a New Policy or Procedure? What Method Did You Use?
When it comes to accepting and implementing change in the workplace, recruiting managers may trust their staff. As a result, a project manager might feel more confident in your leadership qualities if you can demonstrate that you can persuade others that change is both desirable and essential.
If you have excellent communication skills, it is easy to persuade your colleagues that the changes are necessary and positive. Poor communication skills can lead to misdirected or misunderstood messages, resulting in resistance and failure. The next time you're asked this question, reflect on when you were responsible for explaining to colleagues the importance of change or why it was necessary.
The following is an example: "At times, I've had to persuade my coworkers to make things different. You need to comprehend why they aren't persuaded so that you can investigate the shift from their viewpoint, and I have discovered that individuals like a habit. Thus, change is difficult for some. In past, I've had to do that, and it turned out great for our team."
7. How Can You Maintain a Happy Attitude in the Face of Stressful Workplace Changes?
Your attitude at work might influence how you approach your job and the people around you. Maintaining a positive attitude is not easy when dealing with the change management process. Even if you're having conflicted thoughts about job change, you must maintain a positive outlook on the situation. If they give you the job, let them know your job to maintain a good perspective.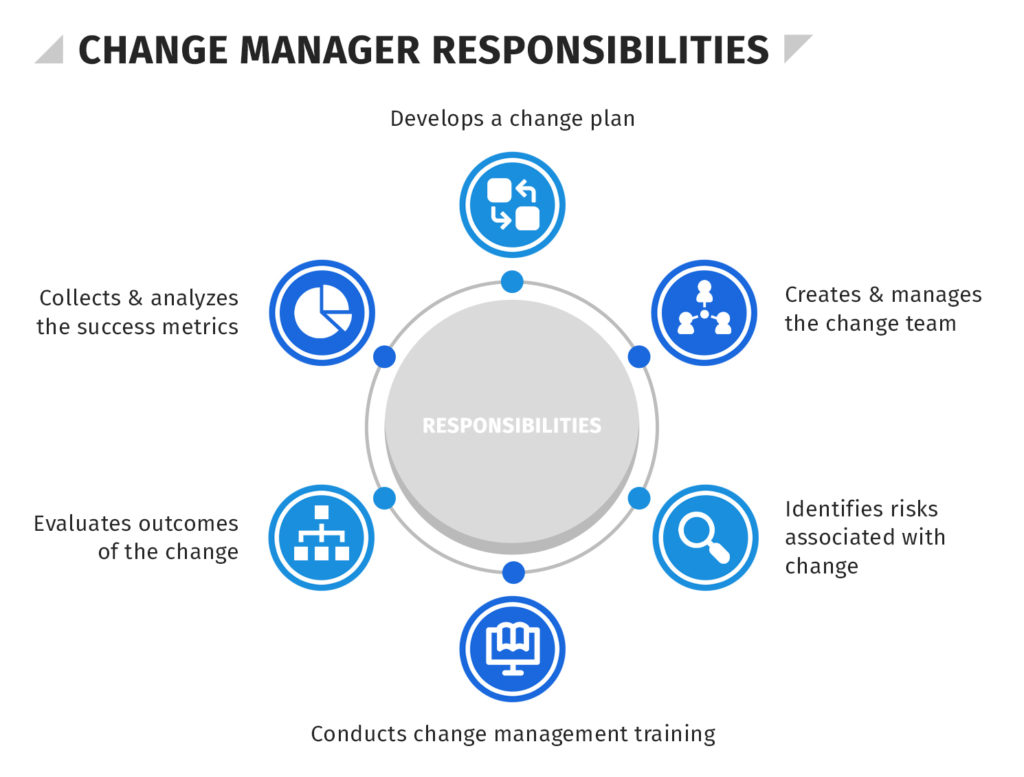 The following is an example: "Keep reminding yourself that if you are looking to adapt to current trends and progress as an employee, you must accept that change is inevitable. As a worker, I have a role to play in the success of my employer, and I take it very seriously. Although the transition is challenging, I remind myself of the advantages of the new direction and how it will help the business as a whole."
8. Why Do You Believe People Are Resistant to Change?
Many people fear change because they are unsure of what will happen next. They resist change, even if it would benefit them in the long run. People often resist change because it's not easy for them to accept something new, but you need to become open-minded to make necessary changes in your workplace.
Inquiring minds may wish to know why specific individuals are resistant to change, for example. Taking your time before responding to this question will allow you to deliver a well-thought-out answer that expresses your thoughts and feelings.
The following is an example: "I feel that most people resist transformation because they thrive on a regular schedule. Changing their routine might make them feel uncertain about their circumstances and unsure of what they're doing next. I've found that the more someone learns about the restructuring, the easier it is for them to accept it and even like it."
9. Where Have You Been a Part of the Most Significant Changes in Your Life?
If you've been involved in the most significant changes of your life, you should have some idea about how you managed the situation. The interviewer wants to know if you can make changes and if it there's an issue for you to do so.
Even though major changes are challenging, you can prove to the company that hiring you is a good idea if you've been involved in some major changes in the past. A change manager would inquire whether you've ever had to deal with a substantial shift in the job. Think back on your experiences and describe the enormous change, why it was significant, and how you dealt with it.
As an illustration: "During my time as a sales associate at a car dealership, the general manager made a major shift in our sales procedure. I entrusted our GM would making the appropriate choices for the business, despite the fact that it was a major shift from the way we had been operating in the past. It didn't take long for me to become used to the new procedures and accept the modifications. Customer satisfaction and sales rose after a few months of the shift. We were all pleased."
10. What Do You Believe Is an Essential Factor in a Company's Ability to Adapt to Change?
It is one of those questions with no right or incorrect response. Recruiters may ask this question to understand better why you feel the need for a career shift in the first place. It doesn't matter whether or not you have firsthand experience in the implementation of a change; your response may indicate to an employer whether or not you've acquired insight while going through changes in the workplace and whether or not you understand people's disposition from working with a range of individuals.
For illustration's sake: "Businesses, I believe, want to expand through implementing change. Product availability and sales are impacted by changes in production business processes. In my opinion, one of the most common motivations for reform is when a company's stakeholders identify an inefficiency that is harming the firm. Change is necessary to achieve objectives."
11. In Your Opinion, What Do You Believe to Be the Biggest Roadblocks to Change?
Taking a few seconds before responding to this question is an excellent way to indicate that you're thinking about your answer. Assuming that you're unsure how to react, your thinking may assist build a concept that you can express to the interviewer. Companies often ask this kind of inquiry to learn more about you as a candidate and to determine if you're open-minded or not.
Some obstacles to change are a lack of motivation, ineffective communication, and no understanding among employees. In the project management world, hiring managers look for individuals who can handle change, which is why you must become aware of what you would consider roadblocks.
The following is an example: "I feel that adoption is the biggest barrier to change. Changing a company's processes and procedures is tough for workers who have become used to them. An entity may not reap the full advantages of the implementation of the change is not adopted by all of its members. Employees need to know why the changes are taking place and you can implement them in a way for employees to feel more comfortable with the new procedures."
12. What Are 7 R's of the Change Management?
7 R's play a vital role in making any change management process successful. If you're going to implement a change within your team or organization, make sure it's successful. The more R's you cover, the more successful your changes will become. The knowledge of R's enables you to look into your change management process.
As an example: The 7 R's stands for seven questions to tackle before implementing any change (whether it's minor or major). It comprises the following questions:
What is the reason behind the change?
What are the risks associated with the change?
What are the resources needed for the change?
Who raised the request for the change process?
Is there any return request from the change?
Who is responsible for managing the change process?
What is the relationship between the change suggested by the managers and the change?
13. What Makes You a Good Fit for the Change Management Role?
When you're hired for a particular position, it's important to know why the hiring manager thinks you're a good fit. In the case of change management, your hiring manager might ask about how you've handled past change initiatives.
When responding to the question, avoid using "awesome" words. It might make you seem cocky, and hiring managers would consider you a bad fit to handle negative situations that come up in the future.
You can answer this question as: "I've always been in a position to make difficult decisions, even when I wasn't authorized to do so. Asking for advice or guidance was something I was reluctant to do because I felt that it can be a sign of weakness. Going over my previous projects and the challenges that they entailed has helped me better prepare myself to handle change management questions."
14. What Do You Think About Measuring the Impact of Change on Sales and Profit?
Change management is stressful. Change managers have to recognize future risks and make provisions for them if necessary. They will need to create the right plans to implement change, and it is best if they can rely on their staff to execute these plans. A question such as this is an opportunity for employers to assess relevant factors influencing how people react or feel about changing their workflow.
You can answer this question as: "As a change management professional, I would analyze the past and current factors that influence long-term effects on employees. I would also identify which areas are most affected by the change and create a plan of action for the employees to follow to ensure they are empowered towards successful change."
Conclusion
Change manager interview questions often revolve around your skills to handle change. It is a good practice for recruiters to dive a little deeper into questions regarding the management of employees in crucial times so they can know who's the right fit for the seat. While if you are a potential candidate who's soon going to attend an interview, make sure you stay confident, and up-to-date with the latest skills and knowledge so you can rock your change management interview.
---
If you are new to Human Resources and are looking to break into a Change Manager's role, we recommend taking our HR Management Course, where you will learn how to build your skill set in managing change, build your human resources network, craft a great change manager resume, and create a successful job search strategy in the change management field.